Disclosure: This post contains affiliate links. Click here to read full Affiliate Disclosure.
Do you know what is in your laundry soap? I mean really KNOW all the ingredients?
As crazy as it seems, the current United States Consumer Product Safety Commission does not require laundry product manufacturers to list actual ingredients, including the chemicals used in fragrance blends. And a single fragrance in a product can contain a mixture of hundreds of chemicals. (1) Many of these chemicals "are known or suspected endocrine disruptors, compounds that tinker with hormonal health that can trigger weight gain and even set you up for diseases decades down the line." (2)
So I prefer to either make my own laundry soap, or use a plant-based formula that is free from synthetic ingredients, such as Thieves Laundry Soap.
DIY Recipe
Ingredients:
4 cups hot water
1 ½ cups Super Washing Soda
½ cup Thieves Household Cleaner
45 drops essential oil of your choice
Instructions:
Grate Thieves Bar Soap with cheese grater and add to saucepan with hot water. Stir continuously over medium-low heat until soap dissolves and is completely melted.
Fill 5 gallon bucket half full with hot tap water. Add melted Thieves Bar Soap from saucepan, Super Washing Soda and Thieves Household Cleaner. Stir until all is dissolved.
Fill bucket to the top with hot tap water and stir.
Continue to stir about once an hour for a few hours.
Add essential oil of your choice (any wonderful fresh smell you would like) and stir.
Fill empty bottles to store laundry soap. I like to reuse my empty Ningxia Red bottles.
To Use Soap:
Shake bottle before using.
Use 1 Tbsp. for high-efficiency washing machines.
Use 2 Tbsp. for traditional top load machines.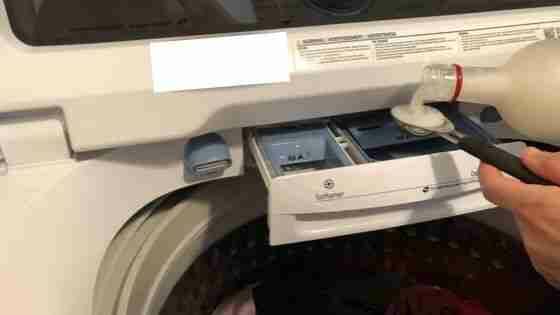 As you can see, only needing to use 1-2 Tbsp. of laundry detergent, and this recipe making a whopping 5 gallons, you will not need to make it very often. This recipe will save you a lot of money in the long run, as I don't know of a laundry detergent available that will give you more than 500 loads.
Now, if you do not have a large family and wash laundry as often as I do, feel free to cut the recipe in half or share with a friend.
If you are not in the DIY mood, no worries. Thieves Laundry Soap is a favorite of mine.
With a formula that effectively and gently cleans clothing, Thieves Laundry Soap is made up of plant-based ingredients and leaves no chemical or synthetic residue. Natural enzymes and powerful essential oils leave your clothes fresh and clean with a light citrus scent—something that everyone in the family will love. Not only does it clean well, but a little also goes a long way!
When your clothes are done in the washer, be sure to check out my DIY Reusable Dryer Sheets.
3 Steps To A Toxin Free Home
Grab this free pdf to learn how living toxin free can be simple and easy.
Sources