Disclosure: This post contains affiliate links. Click here to read my full Affiliate Disclosure.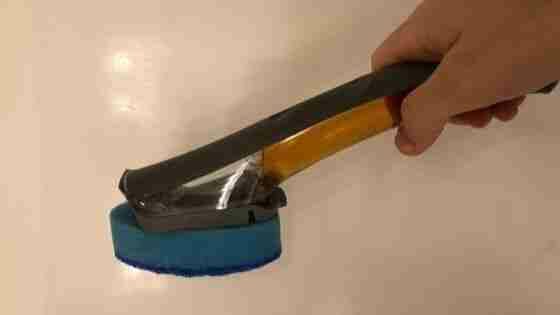 Lung Damage From Your Household Cleaner?!?
OK, let's be real here. Does cleaning your shower make you feel like you want to wear a gas mask? That is what I felt like for many years, using all those cleaning products full of toxic chemicals. Although at the time, I will have to admit, I did not know toxic chemicals were the reason those cleaning products smelled so strongly. For instance, I grew up using bleach, lysol, and all kinds of cleaners. My mom liked her house clean, thinking she was keeping us healthy. But according to an article by Dr. Axe, "Regular, long-term exposure to spray cleaners increases a woman's risk of lung damage similar to that of smoking a pack of 20 cigarettes a day." (1)
Most household cleaners can create hazardous air conditions inside your house. (2) Therefore, besides the person cleaning, the entire family is exposed. Unfortunately, the effects are even greater for small children. Initial symptoms of cleaning with these products may include a runny nose, sore throat, coughing, chest congestion, asthma, and even skin issues. Then over time, as you continue to use these products, toxins can build up in your body, creating a whole host of problems. And if you mix two cleaners together, there is the potential of creating poisonous gases. (1)
My Cleaning Solution
Unfortunately, manufacturers are not required to disclose all the ingredients in their products. As a result, most companies do not choose to disclose all the questionable ingredients they have mixed together. That is why I love the company that I use for my cleaning products. The ingredients are so pure and good for you, that this company discloses every single ingredient, even if there is only a tiny amount in the product. They do not hide anything!
Now I can clean with my children in the room, and even let them help me clean! By using essential oils, we get rid of all the icky germs and make our house smell amazing, without any harmful chemicals. Thieves Household Cleaner combines the strength of Thieves essential oil blend with naturally derived, plant-based ingredients for superior cleaning power. It is perfect for virtually every surface in your home, including carpets, floors, counters, glass, walls, and more. No kidding, I got rid of a trash bag full of cleaning products from all over the house and replaced them with this one amazing cleaner.
For my favorite bathroom cleaning hack, I make a Shower Scrubber. It is an easy to make DIY recipe that is also easy to use. Keep it in your shower, and once or twice a week, simply scrub down your shower walls with it before stepping out of the shower.
Shower Scrubber
Ingredients:
3 capfuls of Thieves Household Cleaner
2 Tbsp. Thieves Dish Soap
Instructions:
Pour Thieves Household Cleaner and Thieves Dish Soap into Dishwand. Fill to the top with water. Like I said, so simple to make, and easy to use. When it runs out, simply refill. When the dishwand head needs replacement, simply get replacement heads here.
For more non-toxic cleaning ideas, check out this Homemade Laundry Soap and really easy to make Reusable Dryer Sheets. And to learn how living toxin free can be simple and easy, grab my free PDF below.
3 Steps To A Toxin Free Home
Grab this free PDF to learn how living toxin free can be simple and easy.
Sources: